Kanesha Day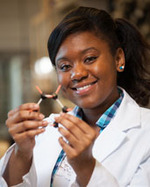 Biochemistry major Kanesha Day's research may someday help doctors treat one of the more intractable problems in medicine: the regeneration of nerve cells. She is part of a team led by chemistry professor Matt McIntosh that is working to replicate a molecule, Antascomicin B, that may help regenerate nerve growth when bound with a particular protein. Antascomicin B is created in trace amounts by a soil bacterium found in China, but if McIntosh's team can figure out how to synthesize an analog of the molecule in the lab, it could be produced and tested on a large scale.
"We're trying to make what nature has given us, a molecule that could be useful in the treatment of Alzheimer's Disease and possibly useful in cancer treatment, as well," Kanesha said.
There are multiple steps in the process, which Kanesha compares to cooking from scratch. "It's really kind of tricky, because if you get to step 20, and you mess up, you have to start over. That's a lot of time lost," she said.
In addition to spending long hours in the lab and in class, Kanesha is devoting her time to another passion – drama. She was cast in the U of A production The Exonerated last fall and will play a main role, a 50-year-old woman, in Waiting to be Invited this spring.
"I can be stressed out, go to acting class, and do a scene – it's a real stress reliever," she said. "You become another person, but really, it's an extension of yourself. It gives you perspective on your own life."
Kanesha is looking at pharmacy schools and considering a career as a pharmacist or pharmaceutical researcher, but she hasn't ruled out acting. "If I had a life where I could do both, that would be perfect," she said.
She's also active in mentoring other young women interested in the sciences and is considering applying to the Teach for America program. "There are a lot of things tugging at my heart," she said.