Meredith Brown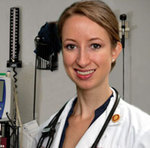 Inspired by a long line of nurses in her family, Honors College Fellow Meredith Brown decided on a career in nursing in high school. It wasn't until a 10-week summer internship at the Mayo Clinic in Rochester, Minn., however, that she found her true calling in neuroscience intensive care. "My internship was very hands-on," Meredith recalled. "I was there during two code blue situations, provided care during a tornado touchdown in Rochester, and observed and assisted during a craniectomy and tumor resection in the operating room." These experiences sparked a passion for providing patient care under trying circumstances. "Neuro scares people because it's such a mystery; people don't understand it," Meredith said. "To be able to reassure patients and their families, and give some comfort and knowledge at an intense time, really excites me."
Meredith's honors thesis, which was supported by a State Undergraduate Research Fellowship, focused on the prediction of adverse outcomes in patients with congestive heart failure. Working under the direction of mentor Nan Smith-Blair, associate professor of nursing and director of the Eleanor Mann School of Nursing, she found that patients with high levels of brain natriurectic peptide (BNP) upon admission tended to have a higher risk for an adverse outcome. "It isn't necessarily a new discovery, but it certainly supports the literature now coming out about BNP, and the need to continually monitor BNP levels in these patients," Meredith said.
Meredith chose the University of Arkansas because of the opportunities it afforded for undergraduate research and study abroad, but says the community that the Honors College offered was also valuable. "The Honors College draws you into a closer circle. I was able to build relationships with faculty and other fellows, and the Honors College staff knew me by name ," she said.
Following graduation, Meredith has been selected to return to the Mayo Clinic neuroscience intensive care unit, where she will work as an RN and receive additional training in neurology and critical care.
*** Broken a:222152 honorscollege: Meet the Students ***