Zoe Teague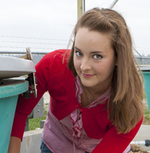 Every year, University of Arkansas residence halls produce more than 200,000 pounds of food waste. "That's a conservative estimate, and more than 90 percent of it is post-consumer food waste – items that students put on their trays but didn't eat," said Zoe Teague, an honors environmental, soil and water science major in Bumpers College of Agricultural, Food and Life Sciences and member of the Honors College. Zoe has played a leading role in the effort to turn food scraps into rich compost using two 5-foot-wide by 4 ½-foot-high Earth Tubs located at the University of Arkansas Agricultural Research and Extension Center. As a final step in recycling, the compost will be applied to experimental plots at the center.
"We're looking to cut our landfill waste in half," Zoe said, "and our long-term hope is to save money. It's not going to get any cheaper to throw food away and ship it out to the Tontitown landfill."
The campus composting project provides a case study in interdisciplinary collaboration, ranging from Chartwells Food Service, which will collect and pulp the food waste, to the Fay Jones School of Architecture materials shop, which will contribute sawdust to temper the compost. The Division of Agriculture, Facilities Management, the Office of the Provost, the Associated Student Government, and the Residents' Interhall Congress have also provided support for the project. Looking back, Zoe said she is especially heartened by the unanimous support from student groups who voted to fund the project. "Students do care about sustainability," she said. "We want to make our campus greener, and we've shown it with this project."
Under the direction of honors faculty mentor Jennie Popp, a professor of agricultural economics and agribusiness, Zoe is documenting the composting project for her honors thesis, which will include a full cost-benefit analysis and a business plan. "I'm hoping that my thesis will provide a model for other institutions that want to start similar programs," she said.