Tricia Starks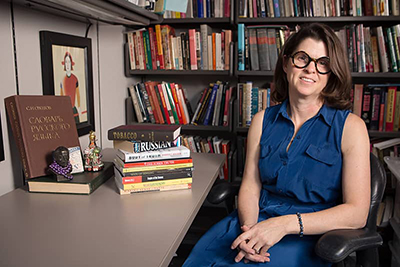 Tricia Starks, director, Arkansas Humanities Center and professor, history, Fulbright College of Arts and Sciences. Tricia Starks' Signature Seminar, Bad Medicine, is infamous for its gruesome and fascinating subject matter. Starks has also presented honors colloquia on the history of addiction; the history of race, class, sex and medicine; and the history of women in Russia and the Soviet Union. She brought her distinctive historical analysis to the panel of experts for the timely Honors College forums Pandemic (2020) and Vaccine (2021).
Starks has served on honors theses committees and served as mentor for seven honors students on topics such as the medical marketing of Eureka Springs, tuberculosis care of African Americans in Arkansas, and the role of sectarian religious groups in the decline of tsarist Russia. Her students have earned scholarships and high honors and moved into medical school, graduate school, law school and public health administration.
Her work with honors has extended to being president for Phi Beta Kappa and serving on campus review and interview panels for Honors College fellowships, and the campus interview committee for Fulbright fellowships. Starks is a member of the University of Arkansas Teaching Academy and was selected by the University of Arkansas Student Alumni Board as a Teacher of the year in 2006. She has been celebrated as a Master Researcher and Master Teacher by the Fulbright College of Arts and Sciences and has served as an Honors College Dean's Fellow.