Research Team Grant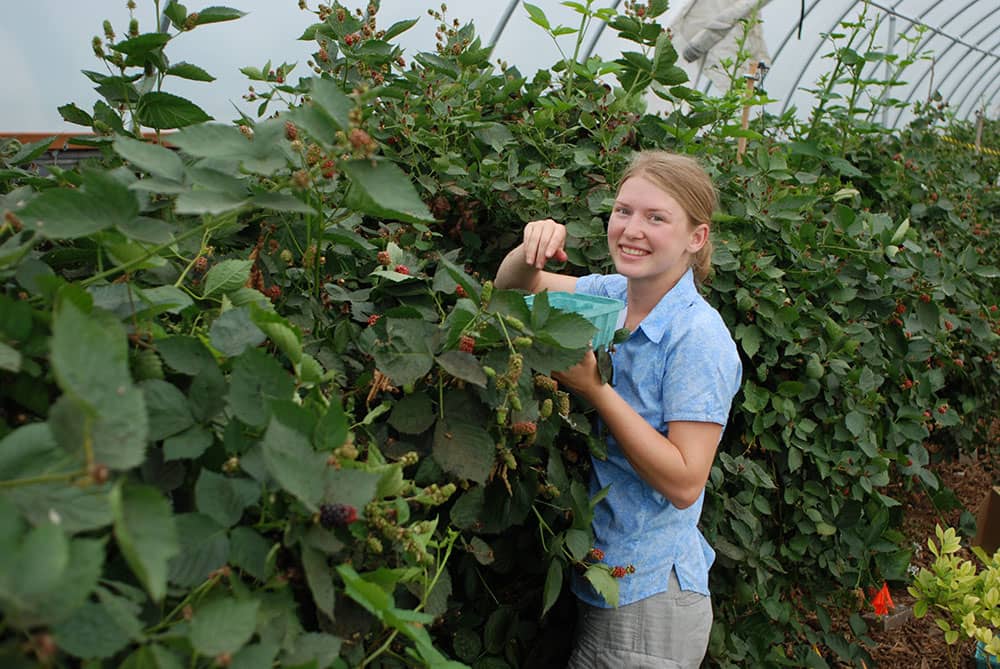 The Honors College Team Research Grant supports faculty members who supervise research teams of up to four students (in one or across multiple disciplines) to oversee the completion of a multi-objective thesis project. There can be a maximum of two faculty members and four students in one grant proposal. A faculty member must mentor at least two students to qualify for this grant, but no more than four.

We seek interdisciplinary projects that benefit from several different perspectives.

Example 1: Impact of a New Blackberry. A U of A horticulture professor has developed a new blackberry, sweet and juicy, that yields fruit in the first year after planting, skipping the usual year-long wait. The potential is tremendous, but raises further questions: Could selective shading produce fruiting in the fall, for higher quality? What would be the economic impact of introducing the new cultivar? And what would changes to harvest timing mean for agricultural laborers?
Example 2: Arkansas Spa Towns. A history professor who focuses on public health partners with pre-med students interested in the history of medicine and Arkansas' past. The team studies a cache of documents in the University of Arkansas' Special Collections, as well as repositories in Eureka Springs and Hot Springs. Together they explore the nineteenth-century notion of "therapeutic relaxation" from a variety of scholarly angles, including the invention of "vacation," the technology of healing in late nineteenth- and early twentieth-century America, and the social and economic history of Arkansas' spa communities.

Good research produces more questions than answers - and the new Honors College Research Team grant is designed to support faculty exploring multidisciplinary topics with several undergraduate students.
For a quick, printable overview of key application requirements, check out the Research Team Grant Quick Facts Sheet.

Clinical faculty, tenured/tenure-track faculty, and non-tenure track research professors are all eligible to apply for Research Team Grants.
Research Team Grants can be proposed by a single faculty mentor or a team of two faculty mentors.
Option One: One Faculty Mentor

One faculty mentor may mentor 2, 3, or 4 students.

Option Two: Two Faculty Mentors

Two faculty members may partner for this grant.
Each faculty member must mentor 2 students, meaning 4 students total will work on the project funded by the grant.
Faculty members will nominate students to be on the teams. However, each nominated student must meet the following criteria:
Students must be members of the Honors College in good standing in the college or school of the major. Good standing includes having a 3.50 cumulative GPA (3.33 minimum for architecture students after their fifth semester) at the time of the Team Research Grant application and during the time the research is being conducted.
Students must have completed a minimum of 6 honors credit hours at the University of Arkansas prior to the semester of application
Students participating in a Research Team Grant may not also have an active SURF or Honors College Research Grant at the same time.
Students found responsible for academic integrity violations or violations of the Code of Student Life are not eligible to apply for or receive Honors College grants for at least one year after being sanctioned.
Student stipends are $1000 for a one-semester project and $2000 for a multiple-semester project. Stipends are given to support research conducted and completed during the grant period. The award is capped at $2000 per student for an entire twelve-month period.
Faculty mentors will receive stipends of $1000 per student. These are given to the mentor associated with that student as defined in the application. These funds will be deposited in a mentor account designated for guiding students through the research process and for materials (research equipment, books, copying, etc.).
Application Deadline
The Honors College accepts applications on a rolling basis. Proposals received and approved within four weeks of the start of a semester can begin that same semester if all research compliance requirements have been met. Otherwise, as with other research grants, the funding period will begin one semester after the project has been awarded.
For more information visit the Honors Faculty Site. You will need to use your uark.edu credentials to log in.
Questions? Contact Jennie Popp at jhpopp@uark.edu.