Julissa Cervantes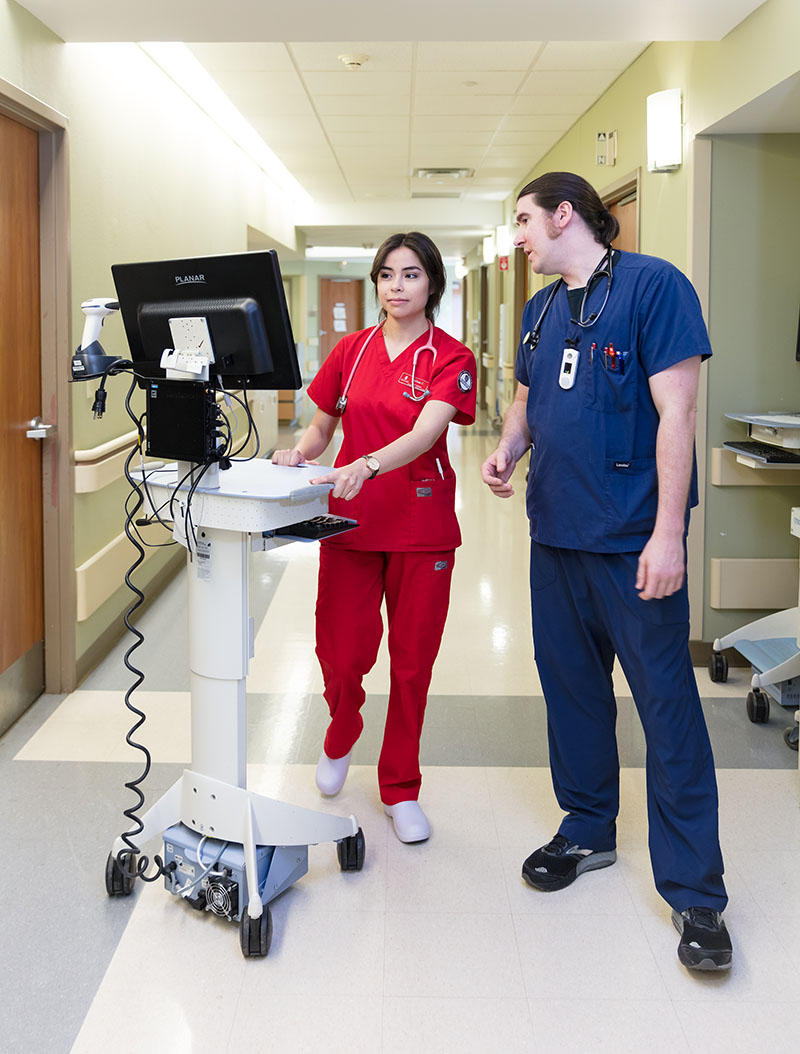 Junior nursing student Julissa Cervantes gets up at 5:30 every morning to do her rounds in the cardiology unit at Washington Regional Medical Center, only leaving for home about 12 hours later. "I went to bed at 8:00 last night," she laughs. "My first semester of nursing school, it was just eat, sleep, nurse. That was it. Nursing, nursing, nursing."
Now in her second semester of nursing school, she's learned to better balance her schedule and has even found time to volunteer in the spaces between clinicals and tests. It would be an understatement to say she keeps busy, but Cervantes is accustomed to working hard to achieve success. Her family moved to Siloam Springs from Mexico when she was in second grade, and even though neither of her parents have a college education, she knew she wanted to go to college from the beginning.
"When my family moved here it was just an expectation – you come here for a better life and a better education, and you have to work for something. My goal was to go to college, and I grew up knowing this was something that I had to do. Not just for myself but for my family, because of how hard they worked to get us here."
Cervantes is just one of a sizeable community of first-generation college students at the university: nearly one in every four undergraduate students on the U of A campus is first-gen, along with many administrators and faculty across every college on campus.
Cervantes says she was lucky when filling out her college applications. She was able to benefit from the advice of an older brother and sister, both of whom attended the U of A before her. Because of this, she was confident in her ability to meet deadlines and construct a competitive application, but she found that her greatest limitations came from forces beyond her control. She is currently a U.S. resident, and though she has applied for citizenship, new legislation has slowed down the process. "It was really stressful applying for scholarships in particular," she said, "because for a lot of them you have to be a citizen. Seeing rejection letters just for that was really hard."
Once on campus, Cervantes found support within the Honors College Path Program, which was established in 2014 to recruit exceptional high school students from underrepresented populations, including first-generation students, and help them excel at the university. Being a part of Path helped Cervantes feel at home in Fayetteville even before the regular session started in the fall, thanks to the Path Summer Bridge Program. "I met other Path students before I got to college. It made it easier to find people to study with outside of class. And I knew if I needed something, even if I was just stressed, I could go to the Path mentors."
Her ultimate goal is to earn her Family Nurse Practitioner certificate and open a clinic in rural Arkansas, to provide easier access to medical care for those who might otherwise struggle to find it. This desire is fueled by a personal understanding of how inconvenient – and life-threatening – rural living can be when it comes to getting health care. From the farm outside of Siloam Springs where Cervantes' family lives, it isn't always easy to get to the doctor – the closest clinic is just too far away. Her family was no stranger to this problem before they moved to the U.S. either. "My dad's mom died when he was six, pregnant with her youngest child," she said. The family had lived in a small town in rural Mexico, and a doctor wasn't easy to find. "I always think that if she had had access to health care she wouldn't have died."