Honors College Seminars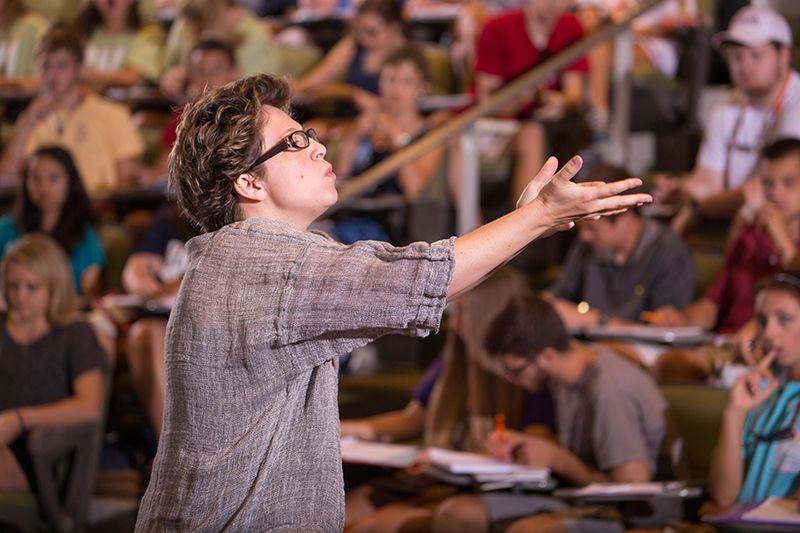 In an honors course, you'll get the facts and something more - an invitation to dig deep and think critically. Honors courses tend to be smaller, more in-depth and designed to spark individual exploration of a topic. In your first year or two you'll have the opportunity to take honors sections of core courses in math and science and in the humanities, and all honors students can apply for a seat in our hugely popular honors seminars, listed below.
Click on each course series to see what's on offer for the fall 2019 semester. For a list of past and current Honors College course offerings, visit our seminar archive.
In these three-credit-hour interdisciplinary seminars top professors and campus leaders invite a select group of students into their world of amazing research, providing an in-depth exploration of cutting-edge topics in a variety of fields. Students must apply to participate, and if admitted are designated Dean's Signature Scholars, a great plus for the resume.
Our one-credit-hour forums bring star faculty and top administrators together with honors students to discuss trending topics in a variety of subjects, from politics to local business to running a museum. These courses often offer unmatched opportunities for networking and community involvement.
In these one-credit-hour courses, students receive a "Great Books" experience, the hallmark of a liberal arts education. Faculty experts partner with honors students from all colleges in a 75-minute, seminar-style discussion in which they view classic works through a contemporary lens. Courses may focus on an author, an artist, a composer or even a revolutionary idea.
This signature faculty-led Honors College study abroad experience engages students with world history, art and culture in its natural habitat. Each course coincides with one of the university's intersession terms, providing students with an immersive two-week experience that won't interfere with their busy regular academic schedule. Past trips have focused on opera and the Hapsburg Empire in Vienna and Prague, the intertwining of history and tourism in Peru, and the legacy and mystique of medieval pilgrimage along the Camino de Santiago in France and Spain. Future Honors Passport trips to Mexico and India are in the planning stages.
In addition to our own programs, every college on campus offers an enticing menu of honors courses. Visit our sample honors courses page and check the course schedule in UA Connect for current offerings. For more information on courses offered in your major, talk to your honors program director.