Retro Readings: Presidential Speeches
Retro Readings: Presidential Speeches
PRESIDENTIAL SPEECHES/HNRC 301VH-001
THURSDAYS, 5:00-6:15 p.m., SPRING 2022
GEAR 129
Note: No application required. This is a one-credit course. Only register for one hour of credit.
Franklin Delano Roosevelt once said, "The presidency is not merely an administrative office. That's the least of it. It is more than an engineering job, efficient or inefficient. It is pre-eminently a place of moral leadership. All our great presidents were leaders of thought at times when certain historic ideas in the life of the nation had to be clarified." Indeed, presidents through the centuries have used the power of the office to speak directly to the American public during moments of historical consequence. Some of the great speeches, for example, were made in the shadow of war, such as Lincoln's Gettysburg Address or Roosevelt's entreaty to Congress to declare war on Japan. In other instances, presidents such as Washington and Eisenhower used farewell addresses to warn the public of what they viewed as looming threats to domestic tranquility. More recently, presidents have used their platform to announce ambitious programs, such as Kennedy declaring his intention to get to the moon or Johnson introducing his vision for the Great Society program. Today, it is difficult to imagine a president making a significant announcement or decision without making some form of public address to the nation.
All honors students, regardless of their place on the political spectrum, are invited to enroll in Presidential Speeches. The foundation of the course will be the discussion that takes place around a table in the Honors College wing of Gearhart Hall. Each week, the class will study a different presidential speech that is considered to be of great consequence. The class will analyze each speech, focusing not just on the language used, but also the historical context surrounding the address. Throughout the semester, students will consider a number of different questions, including:
1) Why are some presidential speeches remembered while most others are forgotten?
2) Can a president's words actually have a measurable impact on public policy or even the national mood?
3) How have presidential speeches evolved over time, especially with the advent of the rhetorical presidency era during the 20th century?
These questions, and more, will be considered in Presidential Speeches.
What's in it for you:
Familiarize yourself with some of the greatest presidential speeches from history
Analyze the linguistic, societal and historical impact of prominent speeches in a discussion-based setting
Gain a greater understanding of the evolution of American political rhetoric through the ages
What's expected of you:
Active participation in and thorough preparation for all class discussions
An open-minded approach to all assigned texts
About Noah Pittman: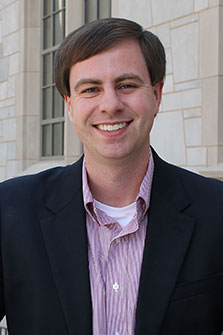 Dr. Noah Pittman currently serves as the associate dean of enrollment for the Honors College. Dr. Pittman earned a B.A. in political science, summa cum laude, from Rhodes College in Memphis, Tenn., where he was active in a number of campus groups and won numerous awards, among them the Yerger Hunt Clifton Scholarship for British Studies at Oxford, the Seidman Award for Most Outstanding Senior Political Science Major, and the Algernon Sydney Sullivan Award. During college, Dr. Pittman also interned with Congressman Steve Cohen's Ninth District Office in Memphis and Harold Ford Jr.'s 2006 U.S. Senate campaign. At the University of Arkansas, Dr. Pittman completed a M.Ed. in higher education leadership and a Ph.D. in public policy. Dr. Pittman's dissertation on the Arkansas Scholarship Lottery and its effects on college participation in the state earned him the William Miller Dissertation Award from the university's public policy program. Dr. Pittman currently serves on the executive committee of the Alpha of Arkansas Chapter of Phi Beta Kappa and the Provost's Enrollment Advisory Committee. In recent years, he has taught a number of honors courses related to campaigns and elections, the American presidency, political partisanship, and higher education policy.