National Merit Scholars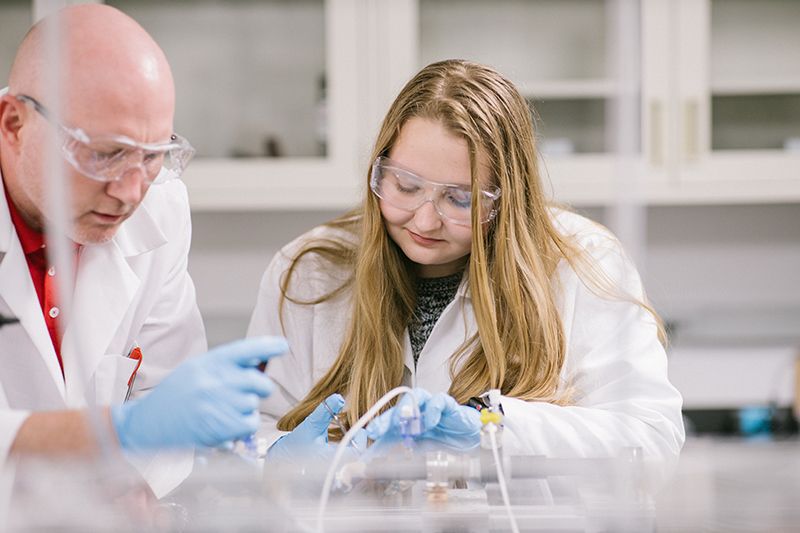 The University of Arkansas welcomes National Merit and National Achievement finalists to campus.
You will become a National Merit Scholar if you list the U of A as your first choice to the Merit Corporation.
The U of A awards the Chancellor's Merit Scholarship, valued at $40,000 over four years, to all National Merit finalists.
Merit Scholars are also competitive for Honors College Fellowships, Study Abroad Grants, and Research Grants through the Honors College.
National Merit Scholars enjoy an active honors community within our beautiful new facilities: Hotz Honors Hall and our new home in Gearhart Hall.
We also offer a rich academic experience to National Merit Scholars. Take Mathias Bellaiche, a biophysics and biophysical chemistry major who has been involved in hands-on research since his freshmen year. He's working with Gregory Salamo, the Joe N. Basore Professor in Nanotechnology and Innovation, on a protein that may potentially be used to purify saltwater, synthesize drugs or power a home. Mathias also had the opportunity to spend his junior year at Cambridge University thanks to the Libby Finch Award. He was named a Barry Goldwater Scholar, which provides up to $7,500 in scholarship funding.
Other National Merit Scholars are studying philosophy and literature, earning business degrees, conducting engineering research and getting involved on campus:
"My favorite class at the university is a tie between Honors Intro to Philosophy and H2P. Philosophy was fun because we got to discuss multiple opinions and ideas about complex issues, without being taught that something was right or wrong. H2P is fantastic. You bond so quickly with everyone in that class. After three semesters in college and three semesters of H2P, it is still the most relevant class I've ever taken."-- Sammi Mason, English and journalism major and member of University Symphony Orchestra
"It is so important to branch out in college, try new things, things you might not have ever considered in high school, because there are so many doors and you don't know where they might lead until you walk through them."-- Andrew Pisechko, accounting major and Razorback Track and Field athlete
"The Honors program not only challenges me to achieve the best within the classroom, but also to pursue leadership outside of the classroom and to leave a positive and lasting impact on my community and the world."--Ralph Miller, mechanical engineering major and member of Hogwild and Razorback Marching Bands